Mission Statement
Statement of Faith

Vision
Founder
Executive Director
USA - Board of Directors
F2F Uganda - Board of Directors

---

Mission Statement


Father to the Fatherless International is a charitable and religious organization with the purpose of reaching out to the street children, orphans, single mothers, and widows of the world through education, nutrition, boarding, and fostering. Through the use of international sponsors, children will be given the proper schooling, wholesome meals, opportunities to receive medication as needed, and a safe place to stay both day and night. Widows, single mothers, and older street children will be given opportunities to learn vocational skills (such as welding, carpentry, and computers). Literacy classes and other training courses will be given to anyone interested in the community.

Statement of Faith

Vision


The vision of Father to the Fatherless is to make sure that the basic needs of children without homes are met, no matter their history. We want them to feel safe and begin filling their hearts with the love of Jesus instead of other things this world has to offer. The beginning stages of the ministry will take place in the district of Mubende (similar to a county in the USA), to the northwest of the city of Kampala. Plans are being made to begin here because we want to be a part of a community that needs to hear the Good News of Jesus Christ and because it's in a more rural part of the country.

Secondly, we plan to build small houses with "dorm parents" (best candidates would be widows or older single mothers) to create family-like settings for the kids that are rescued from the streets. Nutritious meals, Bible studies, music classes, sport programs, and loving care will strengthen their spirits, minds and bodies. Also a vocation school will be implemented to help older children (and other young adults in the community) learn trades such as carpentry, welding, and computers. At each house, we plan to have gardens and small animals to grow and raise our own food. We want everyone to understand the importance of being self-sustained and working for what they will eat. We would also like to have a plot of land dedicated to growing all sorts of fruit to use both for eating and selling for profit, also to teach youth business skills and honesty.

We want to develop a program for widows (and single moms) in the community. We intend to build a medical clinic or hospital to supply care for their families, plus offer educational programs (like proper nutrition, personal hygiene, literacy classes, and making their homes sanitary) to anyone willing to learn.

Finally, we are hoping to reunite prodigals with their original families and bring restoration and the Gospel to everyone. They need to know the freedom of forgiveness through Jesus Christ and the peace that comes with that knowledge.

Founder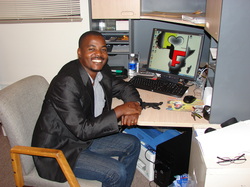 Mathias at the F2F office
My name is Mathias Mulumba. God first showed me the vision for Father to the Fatherless in Uganda when I was just a boy... I didn't know God, but He knew me! He gave me a dream to rescue children from the streets, and every year since, I have had the same dream that God gave me that first night- a big house full of kids running around happily and and being looked after. I praise God for that dream, and have not given up on it.

Now, I can see my dream coming together in real life. My wife and I have started Father to the Fatherless International in the USA, received 501(c)(3) status, been fundraising, bought the land in Uganda, and begun several building projects! God is so good! We want to give these kids a safe place to live, safe food to eat, good water to drink, a place that they can receive an education, and a place to learn about the God who loves them.
​
My prayer is that you will join me and make a way possible for these kids who have seen too much in their lives already. Pray for them! Support them through sponsorship! They need our love.
---
USA - Board of Directors

F2F Uganda - Board of Directors

Francis Sekate - President
Goliath Nuwagira - Secretary
Robert Wagubi - Treasurer, Executive Director
Nickson Ocaya - General Member
Florence Matwire - General Member