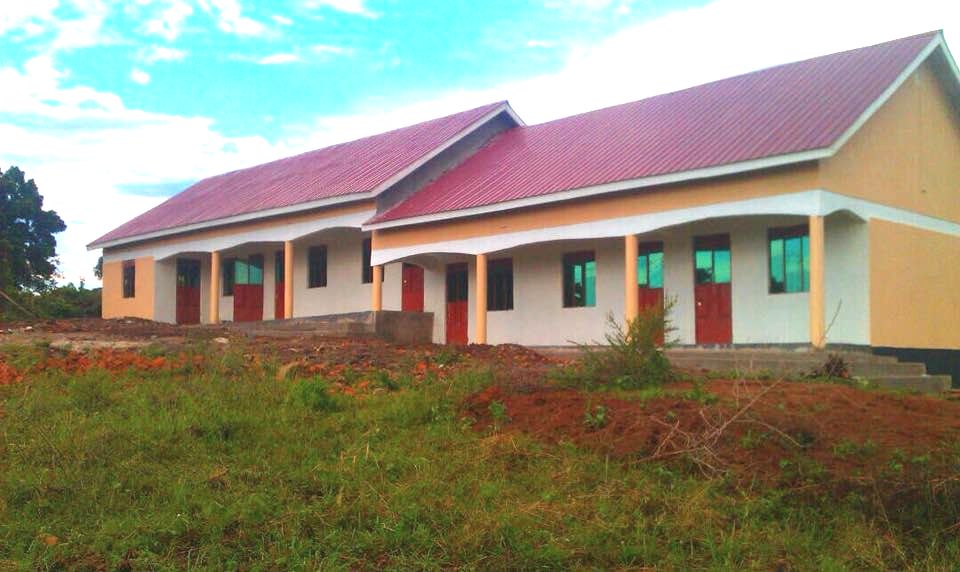 The teacher's housing project is complete!
2-bedroom apartments + common kitchen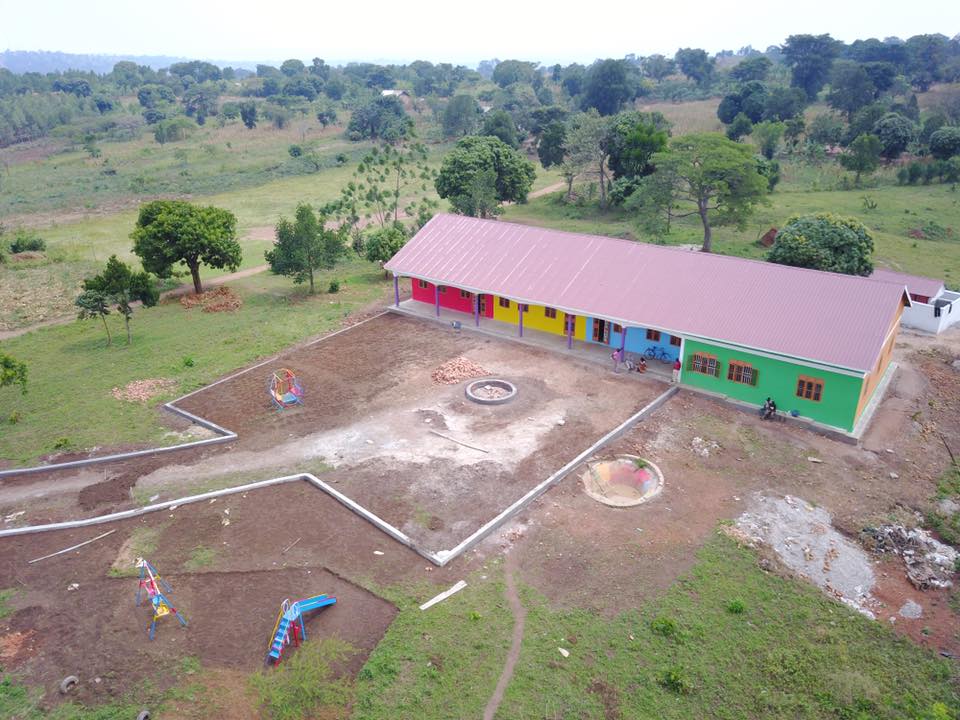 Moving to the next phase.... f2F primary school, Uganda
F2F is moving forward to raise money for a new 16-classroom primary school, for grades P1 through P7! After the Project/Medical mission trip in Spring 2016, we decided it is time to begin building the school for the children who will be coming to F2F as orphans and street children, plus children from the community of Namuganga. The best part about the design for the school, is that it can be built in parts, as money is available! Each block has 4 classrooms, with exception to the first block that includes the administration offices. We are estimating $130,000 to complete the school buildings and add furniture and water tanks to the area. As of the end of 2017, we have completed the NW Classroom building and one latrine building! 3 more to go!
Primary School Layout
Every cent counts towards this HUGE undertaking! Please consider helping... and definitely PRAY for the construction of this school. It will be more than just a couple of buildings - it will be a place for adult studies, Bible studies, Sunday school classes, and more!
---
Project Trip - Spring 2016
Our mission trip in March 2016 was spectacular!! If you missed it, you missed out! We had a 22 people: a licensed doctor, several nurses, some engineers, some contractors, a teacher and social worker, and a couple of pastors come with us to Uganda to be Jesus to the world. It was amazing!!! The medical group worked with 550 villagers in the course of 4 days... seeing varieties of illnesses and infections, plus helping several infants on the verge of death. God is good! Others helped preach the Gospel during nightly "Crusades" on the F2F land, as well as many building projects to finish up the children's homes (bunk beds, tables, erosion control, kitchen supplies).
---
Master Plan Renderings! - December 2013
These are the FANTASTIC designs created by the team of architects of engineers that came out in September 2013. We are so excited to have a visual for this ministry to focus and begin moving earnestly! We hope you'll be inspired and want to join us even more as we move toward helping more of Uganda's impoverished children and widows.
---
Master Plan Site Design - eMI volunteer trip, September 14-21, 2013

A team of engineers and architects are back from heading out to the site in the middle of September! They will be coming up with designs are the multiple structures needed on the land to fulfill the vision of Father to the Fatherless in Uganda (such as primary school, secondary school, vocational school, church building, hospital/clinic, and orphanage clusters). See below for pictures from the most recent trip with the engineers and architects!

---
Building paintings - Early September 2013

A volunteer donated some time and paint to the side of our first building on the 83 acres... He did a very great job! Thank you!!!! (photo credit - Jeff Austin)
---
Fresh Water Project - late August 2013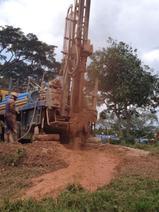 The drill rig on our property.... water flowing down the hill from the hole!
NEWS - NEWS - NEWS - NEWS - NEWS - NEWS - NEWS
God is SOOOOO good to us! We have been able to drill a well in Namuganga Village!! This borehole was the third attempt to strike water - and strike it they did!! PRAISE THE LORD!!! Wow! Check out these pictures from the field:

---
| | |
| --- | --- |
| The sign says: THIS HAND PUMP IS DEDICATED TO THE PEOPLE OF THIS COMMUNITY BY LIVING WATER INTERNATIONAL TO DEMONSTRATE THE LOVE OF JESUS CHRIST A CUP OF WATER IN JESUS' NAME. JOHN 4:10-14 | |
Thank you again to living water international for doing such a great job and working so hard to bring fresh water to this community!